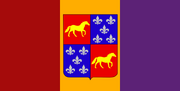 The
Flag of the Free State of OTD
is the national flag of the
Free State of OTD
, and is also considered by some to be the unofficial ensign of the
forum
itself.
Created in 2009 during the turbulent Theias term, its design is heavily symbollic. As one of the revolutionaries (in one of the revolutions) put it:
"THE PURPLE SYMBOLIZES OUR LOVE FOR FPH
THE YELLOW SYMBOLIZES THE PISS POOR QUALITY OF CANADIAN GOVERNMENT
THE RED SYMBOLIZES CANADIAN BLOOD
THE PONY SYMBOLIZES AWESOME
THE FLEURS DE LIS SYMBOLIZE THE FRENCH WHO FUCKING EAT FROGS ALIVE"